My friend PLP wrote this tutorial for my site a few years ago. Maybe it will help some of the new hunters.
In no particular order here is some random info to get you started...
When stalking try to come in from downwind, and if you see a hog get down wind as quickly as possible. The #1 defense of a hog is his nose. Hogs that are feeding around are soooo easy to get, but when they are bedded down, and things are quiet they hear you approaching. When jump
shooting bedded hogs you better be a fast shot, so make sure you have something you can get shouldered up fast. Open sights, or a 40mm red dot is what I prefer for jump shooting.
You just have to keep at it, and learn the areas, and learn from your mistakes. Realize those hogs are highly pressured, and mostly nocturnal. They move ALOT. Here one day, a mile away 4 hours later.
Hogs like to stay in an area as long as there is food and they are not being pressured. Sows and pigs tend to stay in the same areas more often than boars. Big Boars like to stay solo, and younger boars like to travel in groups sometimes. When it comes time for a sow to be bred, the big boars will run the younger ones off if they get too close, and the bigger boars will fight over her.
Mama pigs are very loving. They will adopt all piglets that need a mom to follow. I have seen big sows with several different sizes.4 or five...5 pounders, 3 or 4...15 pounders, 2 or 3...25 pounders, a few 50 pounders, and some 80 pounders...Of course, they can only have three litters a year and usually only have 2 litters a year. She could not have had that many piglets that soon, and they gain weight fast, like 40-50# within six or 7 months...so you know she picked up another sows pigs.
Sows will keep pigs with her until they get up old enough to breed. Even after that, some of her female offspring will stay in a group with her after they have piglets. If food becomes scarce, the big sow will run them off too. Keeping the best food source for her and her piglets.
Usually the young boars are run off when they get old enough to breed. It only takes mama coming back into heat to draw a boss hog in, and he will run them out. Then the young boars will stay together for a while or fly solo. Depending on how much they like to hang around others. Just like some people prefer to be loners.
Know your food sources. During the summer, they are eating grass, roots, tubers, mushrooms, and any crops that are planted. Around late summer, they will be eating all of that plus muscadines, crabapples, and pears. In late September live oaks, water oaks, persimmons...etc.
During the winter months, it is harder to find rooting. This is because not much is growing, and their food source has changed. You can still find rooting near drains, around rotting log piles, and wetter areas because there may be new growth there. They will feed on acorns and grasses just like deer. Picking them up with their mouths and leaving no sign other than the occasional turned over leaves as they look for acorns.
Around Late January early Feb, you will find they like to go back to the acorn trees that produced and they will root up under the drip line of oak trees that produced back in the fall. However, as green growth starts back up in early spring they will start eating/rooting grasses up. In the area, I hunt if I see acorns lying on top of the ground I move on. Because if there are not enough hogs to eat them up by now, then it means I am in a poor area. They hit the food plots too, but if you are in an area like the one I hunt there is too much pressure on them, and they mostly come to them at night. Around spring they start rooting up the world again as new growth establishes.
Wherever the food is at is where they will be. They like to stay in the thickest stuff they can find to bed in. You just need to look for thicker areas for them during the winter. That means they will be in the thick nasty stuff that you'd rather walk around, not in. So don't skirt that thicket--or he will just lay tight.
Hogs only have one stomach so they eat more often than a deer. Hogs usually feed two or three times a day (morning, afternoon are best, and sometimes they will move around in mid-day), and gorge themselves most of the night. You can catch them in the morning time after they have been rambling all night. They also have to chew their food before they swallow it. Meaning they will be in one spot for longer periods if there is plenty of food.
Hogs do wallow a lot during the summer, but they tend to lie up in the palmettos all day if they can. If it is not too hot, that is what they will do. When it is hot they will bed near a wallow, and they will wallow for short periods periodically throughout the day. I took two hogs this summer that were sleeping in wallows. They prefer water holes with clay or dark grey soil for wallowing. I have found a few dry wallows. A dry wallow is just a dirt hole like a turkey dust bowl, but five times bigger. They wallow to not only keep cool, but also to keep the bugs off. So any time it is buggy they will wallow...dry or wet it may not matter.
If you hunt a wallow, look on the trees to see if there is any fresh mud. I like to check wallows every so often, and if I just missed them, and see fresh wet mud on the trees, I will follow the fresh mud on the trees all the way to their beds, and catch up with them. They leave you a trail, and don't even realize it.
I would suggest doing a little stalking in the palmettos when it is comfortable for you to do it. Then you can learn the bedding areas. Remember where they were and slip back in a few days later. Keeping the wind in your favor. Hogs are very easy to slip up on when they are feeding in a group, but bedded hogs are tough. You have to slip in, because things are settled down, and if they hear you, they may spook before you are in range. If you get in range, you will have to take a jump shot if you get an opportunity. Sometimes bedded hogs will let you walk very close to them before they will make a run for it.
If there is no water then your hogs may move out the area until they don't depend on it as much. However, I have seen hogs feed in open areas on grasses that have dew on them. They will chew up the grasses to get moisture out then spit it back out like a wad of tobacco.
When it seems like sign is everywhere. I like to go the morning after a good rain to track roads. That will help you dial in on their location. Hogs love to root after a rain because it helps keep dust out of their snouts, and loosen the soil as well.
Again, a hog's biggest defense weapon is his nose. Keep the wind in your favor, and you'll be on the way to wearing' them out!
I have two tips to share that I have just put together. Hog movement has been pitiful from Jan, all the way up to around the 3rd week of Feb. saw an alligator last week, and the hogs have started moving at just about the same time. I think the gators coming back out shows a change in the season. In addition, there is starting to be more growth on the hill. The hogs have almost depleted their food sources in the swamps, and their thick hiding spots. I believe that is one reason they are on the move.
Here's a few pics.
This is a good wallow; see all the trees with mud?
A boar has been cutting on this pine. They look like a deer rub, but are dirty. If it has been freshly cut on, you will see sap oozing like this one.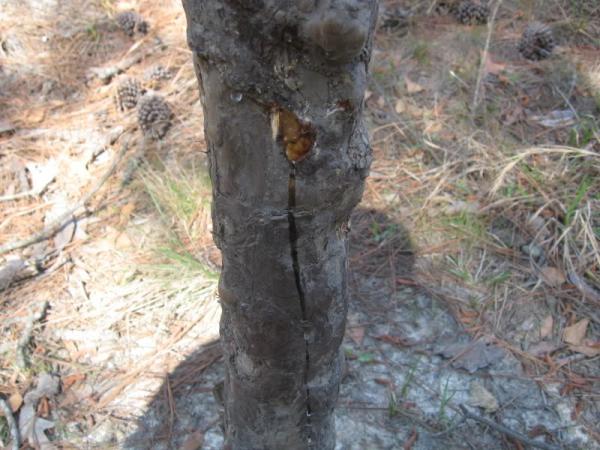 Don't find these too often. A Big community rubbing tree.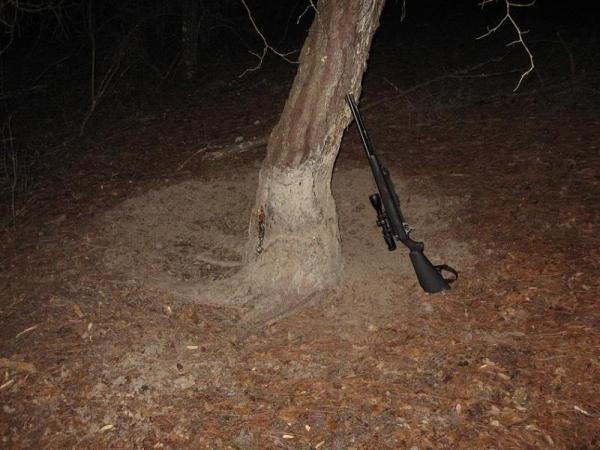 Good luck, and Hope I helped.